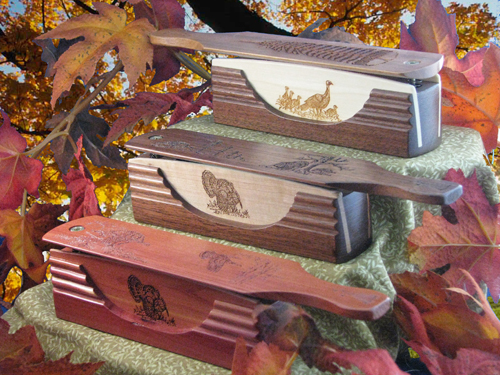 CCW Hunting & Game Calls provide Amish handcrafted heirloom quality hunting calls. Enjoy old world distinguished craftsmanship and wood joinery skills passed down from generations of Amish craftsmen. The Amish don't subscribe to high profit margins and planned obsolescence.
CCW Hunting &  Game Calls has become a recognized source for high quality hunting calls. These old fashioned vintage style calls are purchased as gifts for individuals and groups. Optional personalization makes these calls exceptional gift selections for wedding parties, graduations, retirements, and even marriage proposals.
CCW Hunting & Game Calls is a subsidiary of Cottage Craft Works.com. While hunting and game calls was the first handcrafted products to be offered, Cottage Craft Works now offers a large selection of hunting gear, gun accessories for all hunting types as well as a full line old fashioned general store full of home goods, farm and garden, kitchen wares, and Amish furniture. Cottage Craft Works has an emphasis on old fashioned self-sufficient products to live a sustainable off grid life style.
Cottage Craft Works is an accredited business with the Better Business Bureau Click Here for more information and rating.